With the NFL Draft officially in the books and teams getting ready for the new year, it is time for Dynasty players to begin their rookie drafts. These drafts are extremely important in Dynasty Leagues as it could set your team up to succeed in the future. Just look at last year, whoever had the top pick got to select Saquon Barkley and they now have the best fantasy running back for the next 5 years. Now there isn't a Saquon in this year's class, but there are a lot of solid options. I'll be doing a 10 team, first round mock. Let's get it started. 
Pick 1: Josh Jacobs, RB, Oakland Raiders
Jacobs is a powerful back with excellent contact balance, vision, and agility. He is a grinder in between the tackles and is a great pass catcher as well. With no real threat for touches behind him, it is easy to envision the rookie getting 250 plus touches. With running back being so valuable and a talented runner like Jacobs getting a workhorse role, he is easily the top pick in my opinion.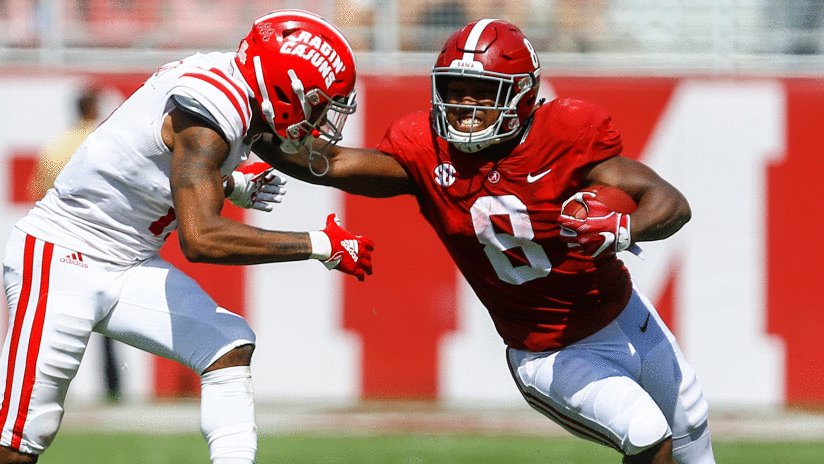 Pick 2: David Montgomery, RB, Chicago Bears
Positional value comes into play here, like I said, running backs are the most valuable position in Fantasy Football. Montgomery was selected in the third round by the Bears and should immediately step into the early down role. Think James Connor when thinking of Montgomery. They both have great tackle breaking ability, contact balance, and pass catching ability. By the end of the year, Montgomery could have the three down job to himself. 
Pick 3: N'Keal Harry, WR, New England Patriots
One of the best receiver's in the draft landed on the Patriots, which means the hype is coming. I've been comparing Harry to DeAndre Hopkins. They both have great route running ability, body control, and contested catch ability. Now, Harry is a rookie and the Patriots bring their rookies in slowly, but by the end of the year, we could see a top 25 overall finish by N'Keal Harry. 
Pick 4: Miles Sanders, RB, Philadelphia Eagles
Sanders perhaps is the best all-around back in this class. He has more athleticism than Jacobs or Montgomery, and has a solid skill set. If he can take a hold of lead ball carrying duties, he could be a huge fantasy asset. The Eagles are typically a RBBC, which is why Sanders ranks behind Jacobs and Montgomery. 
Pick 5: D.K. Metcalf, WR, Seattle Seahawks
The most hyped receiver of the class, Metcalf fell to the end of the second round. He landed in a great situation in Seattle though. He should have an early season role as a field stretcher, and could develop into a true WR1. With Russell Wilson throwing him the ball, 8 plus touchdowns is a real possibility in Metcalf's rookie year. 
Pick 6: Hakeem Butler, WR, Arizona Cardinals
This pick is all about upside. Butler wasn't even the first receiver taken by the Cardinals in the draft, but he has some elite tools. He ran a 4.48 at the combine and is listed at 6'5 and weighs 228. You can't teach that. He struggles with drops, but he also makes some of the best contested catches you will see. He will likely be the third receiving option in his rookie year, but learning from Larry Fitz for a year will do wonders for Butler. This pick could set you up with a WR1 in a couple years.  
Pick 7: Parris Campbell, WR, Indianapolis Colts
Perhaps the best landing spot for any receiver in the draft. The Colts offer a unique situation. They have a stud QB, a number one wideout in T.Y. Hilton, and a high octane offense. Campbell is an electric playmaker and will add another homerun threat in this offense  Competition for touches is what will hold Campbell back, but he is a great talent in a great situation. 
Pick 8: Deebo Samuel, WR, San Francisco 49ers
Another receiver in a great situation. Samuel should immediately compete for the team lead in targets. Primarily working in the slot, Samuel compares to Golden Tate. That makes him valuable, especially in PPR or Half-PPR leagues. With Shanahan drawing up schemes, Samuel will be putting his great after the catch ability to work in 2019. 
Pick 9: T.J. Hockenson, TE, Detroit Lions
The first tight end off the board, Hockenson could lead the team in touchdowns in 2019. One of the best all-around tight ends in recent draft history, Hockenson will stay on the field for most of the team's offensive plays. This makes his fantasy production opportunity very high. With Golden Tate gone, the middle of the field should be wide open for T.J. and he will be a much needed security blanket for Stafford. 
Pick 10: A.J. Brown, WR, Tennessee Titans
The Titans snagged their version of Jarvis Landry in 2019. Brown is an excellent route runner with solid hands and good RAC ability. He should slide into a high volume role in this offense. Since he can play on the outside as well, he should stay on the field in two wideout sets. This is a make it or break it year for Mariota, and I expect him to have his best season yet. Brown can go a long way to helping Mariota.