With the NFL Draft just a week away, it is time to dive in one last time on the upcoming rookies. There are going to be 32 first round draft picks and each player will be looking to bring an immediate impact to their teams. For this article, we are going to be talking about D.K Metcalf. The overall best wideout by many, Metcalf has the tools to be an NFL star, but there are concerns. Let's dive in. 
Measurable's
Nobody in this draft class even compares to Metcalf when it comes to his athletic testing. He had a freak workout at the combine and everyone saw the infamous Instagram photo that made him the most hyped prospect in this draft. He runs a 4.33 in the 40-yard dash at 228 pounds. For comparison, according to the height-weight adjusted 40-time, he "should" have ran a 4.65. Not only is he fast, but he is also explosive. He recorded a 40.5 inch vertical and an 11.1 foot broad jump. His short area quickness were impressive for a guy his size. Running a 7.38 in the three cone and registering a 4.5 in the short shuttle. Now what do all these numbers even mean? Well obviously the 40 yard dash registers your straight line speed. The broad jump and vertical are meant to tell your lower half explosiveness. The better the results, the more likely you are to be able to go in and out of breaks, as well as go up and get jump balls. Lastly the short area drills is where teams can tell how much separation a receiver can create. Like I said, his measurables were off the charts, which is why he will mostly likely be the first receiver taken. 
Red Flags
There are a couple red flags that come with Metcalf. Luckily, they are no off-field issues that have followed Metcalf. The red flags are due to his health and on-field production. They go hand in hand as he only played 21 games in three seasons at Ole Miss. He had two separate season ending injuries. One was a broken foot in 2016 and the second was a neck injury in 2018. Due to his injury history, teams are worried about the longevity of Metcalf. His combine visit proved he was fully healthy and made plenty of teams happy with that result. Still, there is concern that Metcalf will be an injury prone receiver in the NFL. Now while he was on the field, Metcalf was a dominant receiver. He registered 26 receptions, 569 yards, and 5 touchdowns in only 7 games in 2018. Teams do like experience though, and his lack of playing experience will have some teams second guessing his status as the best receiver in the class.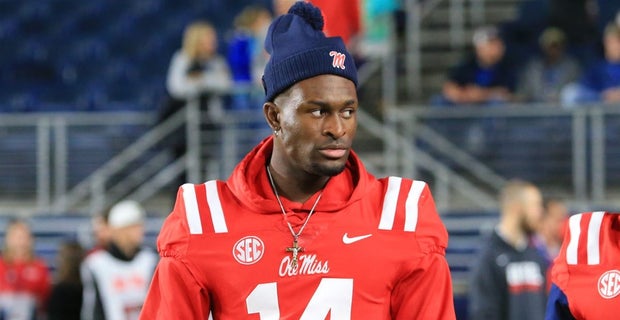 Overall Review
The reason Metcalf is considered by most as the top receiver in this draft class, is because of his upside. His measurables make his upside as a dominant WR1. There is no denying that with coaching and an expanding route tree, he can be a truly elite wideout. However, I also want people to know his floor. I believe Metcalf is talented enough to be at worst, a good vertical threat. Even if he cannot maximize his potential and his tools, you cannot teach speed and size. Overall, it is easy to see the path to stardom for Metcalf. The main key for Metcalf is to get drafted to a team that will continue to grow his game and allow him to develop. If D.K. Metcalf uses his elite tools and talent, we could see the most dominant receiver in the game in a couple years.