This is a brand new article series that I am starting called "If I Were a GM." This series will be articles about things I would do if I was the general manager of NFL Teams and list out the perfect scenario that could play out. I'm going to go through each NFL team and highlight some offseason moves and draft picks that would set that respective team up for the future. All 32 NFL teams will be included in this series and the series will end before the 2019 NFL Draft. I'm going to be wheeling and dealing and I hope you guys enjoy the series.
The Packers entered the 2018 season with high hopes. They added Jimmy Graham and had a healthy Aaron Rodgers under center. Well the season took a downturn mostly due to an inefficient offense and lackluster defense. The 2019 offseason for the Packers has been my favorite out of the NFL teams. They added impact players on the defensive side of the ball like Preston Smith, Za'Darius Smith, and Adrian Amos. With an exciting and young defense, Aaron Rodgers, and two first round picks; the Packers are primed for a 2019 bounce back.
What I have to work with: 5 million in cap space and 10 draft picks (1 (2), 2, 3, 4 (2), 5, 6 (2), 7)
Notable Players: Aaron Rodgers, Davante Adams, Kenny Clark, Adrian Amos, Preston Smith, Za'Darius Smith, Jaire Alexander, Jimmy Graham, David Bakhtiari
Biggest Needs: S, WR, TE, LB, DT, OL
Trade
Trade Geronimo Allison and a Pick 114 (Round 4) to the Patriots for Pick 97 (Third Round)- The Patriots are notorious for getting players in pick swaps and this is a great trade for both teams. The Packers have three sophomore wideouts that need more playing time and they can potentially add another wideout in the draft. The Patriots need more bodies at wide receiver and can utilize Allison's versatility.
Draft
Round 1, Pick 12: Devin Bush, ILB, Michigan- Devin White is the best three down linebacker in this draft, Devin Bush is right behind him. Bush offers sideline to sideline speed and lays down the hammer on runners. He would slide right into the middle of the Packers defense and pairing Bush, Martinez, and Smith gives the Packers arguably the best linebacking corps in the NFL.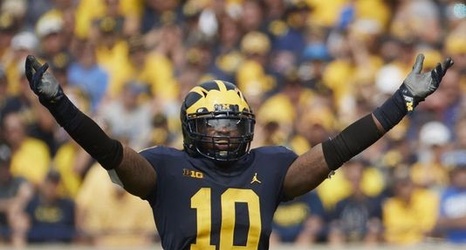 Round 1, Pick 30: Parris Campbell, WR, Ohio State- Aaron Rodgers needs some help. He relied way too much on Davante Adams in 2018 and needs some weapons. Adding Campbell gives the Packers another young wideout. The difference is, Campbell is a different type of wide receiver than the other Packers wideouts. Campbell has game changing speed and explosiveness. He is a playmaker that can stretch the field as well as catch the short to intermediate routes that Randall Cobb left vacated.
Round 2, Pick 12: Chauncey Gardner-Johnson, S, Florida- The Packers get Amos a partner in crime. Gardner–Johnson would be a perfect pick here. He fills a need and offers big upside at the safety position. A punishing defender with plus athleticism, he can play near the line of scrimmage or as a deep free safety. His versatility adds another young upside player to this Packers defense that could be among the NFL best.
Round 3, Pick 12: Joe Jackson, DE, Miami- The Packers continue to add to the defense with this pick. Jackson will likely spend a year to develop more, but he has some of the best physical tools in the draft. He is a big powerful edge rusher and can step in and be an impact player sooner rather than later.
Round 3, Pick 34 (from NE): Bryce Love, RB, Stanford- This pick gives another weapon for Aaron Rodgers. While Jones and Williams can battle it out for the early down role, Bryce Love gives a whole new element to the backfield. Once he is full healthy, the Packers will have an electric running and receiver out of the backfield. This pick gives new head coach, Matt LaFleur, his Green Bay version of Dion Lewis.
Use remaining picks on OL, TE, DL, CB
Recap
The Packers had an uneventful 2018 season. However, they improved immensely in the offseason and have a plethora of draft picks to continue to improve. I would trade Allison and a fourth rounder and net a late third round pick. This now gives me 5 picks in the top 100 which allows me to select impact rookies like Devin Bush, Parris Campbell, Chauncey Gardner-Johnson, Joe Jackson, and Bryce Love. The Packers are in position to be one of the best teams in the NFL in 2019 and a Super Bowl run is not out of the question for this talented roster.