This is a brand new article series that I am starting called "If I Were a GM." This series will be articles about things I would do if I was the general manager of NFL Teams and list out the perfect scenario that could play out. I'm going to go through each NFL team and highlight some offseason moves and draft picks that would set that respective team up for the future. All 32 NFL teams will be included in this series and the series will end before the 2019 NFL Draft. I'm going to be wheeling and dealing and I hope you guys enjoy the series.
The Dallas Cowboys made some bold moves in 2018. They traded their first round pick for Amari Cooper and it immediately paid off, as they clinched the NFC East title and went into the playoffs. For a team that lacked offensive star power, this trade was something that needed to be done. Heading into 2019, the Cowboys have a young and exciting team, and can look to challenge for the NFC East crown yet again. 
What I have to work with: 6 million in cap space and 7 draft picks (2, 3, 4 (2), 5, and 7)
Notable Players: Ezekiel Elliot, Tyron Smith, Zack Martin, Byron Jones, Dak Prescott, Amari Cooper, Demarcus Lawrence, Jaylon Smith, Leighton Vander Esch
Biggest Needs: DL, CB, S, TE
Releases
There are a couple releases the Cowboys should make to give them some financial flexibility. Even though it'll be painful, releasing Sean Lee will clear up 6 million in cap space. Lee is now a part time player and while still effective, not worth the money. Also releasing Allen Hurns will be next. Hurns is now sitting behind Cooper, Gallup, and Cobb and is no longer needed. These moves will clear up around 11 million in cap space. Also releasing Jeff Heath clears up 3 million in cap.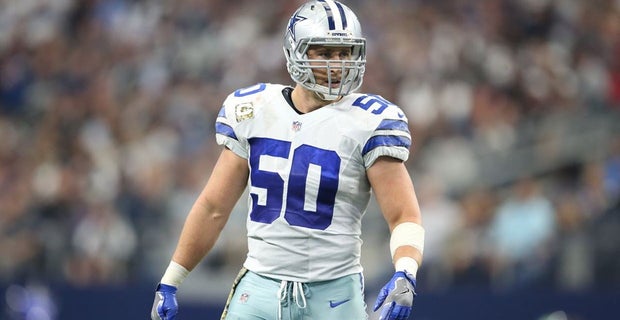 After releasing Lee, Hurns, and Heath: 20 million in cap space
Start Preparing for Extensions
The Cowboys have a lot of decisions to make in the upcoming year. They need to decide if Demarcus Lawrence is worth the money, they are going to have to pay him at least 17 million a year. I believe he is worth it, after being so consistent for three years now. Dak Prescott remains to be the "franchise quarterback" and the Cowboys need to either commit to Dak or simply let him go after this year. Amari Cooper is next in line for an extension, if he performs this season then paying him star wideout money is what needs to happen after giving up a first rounder for him. 
Free Agency
With a little cap space, the Cowboys can bring in some help. Signing Zach Brown would be huge. He is another tackling machine and is a younger, cheaper version of Sean Lee. With Brown, Smith, and Vander Esch in the middle of the defense. There will be a lot of tackling happening before the second level. Two years for 10 million dollars is a good deal. 
After signing Zach Brown: 15 million in cap space
NFL Draft
Round 2, Pick 26: Jachai Polite, DE, Florida- Once a first round prospect, a bad showing at the combine pushed Polite down the draft boards. He pulled out of the combine due to injury so that could be part of the bad showing. Either way, the Cowboys should jump at the chance to draft Polite this late. He is a very talented pass rusher that can help this defensive line. If the Cowboys can keep his head on straight, Polite could be the steal of the draft.
Round 3, Pick 27: Amani Hooker, S, Iowa- In today's NFL, hybrid players are a great asset to have. Hooker played a hybrid safety/linebacker role at Iowa and thrived. The Cowboys can draft Hooker to replace Heath and let him match up against opposing tight ends. Hooker can set the tone on defense and while he isn't a ball hawk, he plays with instincts that have him gravitate to the ball. He is a scheme dependent player, but he can be utilized very well in the NFL. 
TRADE Overall Pick 129 for Robert Quinn- The Cowboys cannot fill all of their pass rushing needs in the draft. Trading one of their fourth rounders for Quinn gives them a proven veteran who can add to this pass rush. If the Dolphins are willing to eat some his salary, then parting ways with a fourth rounder is fine. 
Remaining Picks should be used on the defensive line, offensive line, and secondary
Recap
The Cowboys have a young and pretty complete roster. Letting go of some veterans gives them some cap space to sign a tackling machine in Zach Brown and allows them to take in Robert Quinn's contract. Drafting Polite and Hooker gives them some instant playmakers to an already solid defense. On offense, giving a full year to look at Dak and Cooper will let the organization know how much money to invest into these two players. With a team like this, the Cowboys should once again be right in the thick of things come later December.